Embracing a continuous improvement mindset for your marketing
6 min read
Continuous improvement is: 'The ongoing improvement of products, services or processes through incremental improvements' and is closely associated with the Japanese term 'Kaizen' which means change for the better.
It is certainly not a new concept, and one that is regularly used within businesses of all shapes and sizes to reduce waste and get better performance. Clive Woodward famously used the marginal gains concept during England's Rugby World Cup success in 2003, which follows the same pattern of learning and making frequent small improvements.
However, continuous improvement isn't a concept that many businesses harness in their digital marketing. This surprises us. Not least because the term 'a website is never finished' has been commonplace for decades now, but we've also seen first-hand the incredible results achieved by constantly learning and rolling out improvements.
Therefore, the purpose of this article is to dispel the myths about continuous improvement and show how it can be used in your digital marketing to provide a competitive edge and support business growth.
How continuous improvement can benefit your business
The benefits of using continuous improvement within your digital marketing is clear. So, here are a few of the top reasons to use it within your marketing to benefit your business.
Improved revenue and greater ROI as your marketing strategy will be more effective with incremental strategic and tactical improvements
Increased efficiency as you can evolve your digital marketing using real user data to ensure you are focusing on the most effective strategies and tactics to meet your target customers' needs
Decreased costs and risk as you can spread the investment of your marketing over time and continually learn so you allocate budget and time to the highest impact areas
Build more meaningful and mutually beneficial relationships with your audience through constantly evolving to better connect and engage your audience.
How to implement continuous improvement in your digital marketing
Continuous improvement can be applied to all areas of your digital marketing. We have provided some ideas below of ways you can incorporate continuous improvement within some of the most popular channels and tactics to help you maximise these further.
Strategy
It's key to monitor macro and micro data impacting your business as you can regularly check if strategic shifts are needed to adapt to take advantage of opportunities or mitigate threats. You can A/B test your tactical mix, to ensure this is effective and adjust according to the results. A clear and concise monthly, weekly, or daily report, depending upon your type of business is a must to provide clarity on your strategic impact. We recommend Google Data Studio for this, and you can find out more on how to elevate your reporting in our recent article.
Website
This is one of the channels that many businesses create and then don't touch with 42% of marketers only making impactful improvements to their website once or less a year (HubSpot survey). This is a real missed opportunity as you could be improving the user experience, feature improvements, performance improvements, specifically around your Core Web Vitals scores, conversion rate optimisation, content gaps to name a few. At Granite 5, we use a methodology of Growth-Driven Design to provide structure to the website improvement process.
We delve into further ways you can continually monitor and improve your website performance in a recent article, 5 key areas you should be reviewing in your regular website health check.
Email
This channel can easily be continually improved through running A/B testing with elements in your emails such as with and without images, different headlines, modified design, plain text vs HTML, different types of CTAs, and varying sending days and times. All modern email marketing software will provide you with data on these tests which will allow you to continually modify your emails to better engage and delight your customers.
Automation
Many businesses that use automation within their marketing through CRM and marketing platforms such as HubSpot, can tend to build and forget them assuming they are doing their job. However good your automation system may be, you still need to look for opportunities to improve it. Are recipients engaging with the content? Are there additional automation workflows you can implement to increase efficiency and provide a better customer experience?
Brand management
You may think once you have your brand defined, that this is one area that will stay static. But as any great marketeer knows, gaining brand awareness amongst your target customers at the point of purchase and maintaining that top-of-mind brand position is crucial and requires consistent effort. Your brand should be continually evolving in line with market changes and your strategic focus while staying true to your core brand values. See this great example of a little well-known brand called Apple, which has done just that.
Social media
There is a vast amount of data now available from social media platforms that enable you to understand whether your activity is effective. You can benchmark this against your business KPIs to understand if you are meeting your goals. By analysing this data, you will be able to see how you need to adapt your content, posting times, type of content, messaging, and even effectiveness of the platform, to continually improve your social strategy to better serve your business goals and customer needs.
Content marketing
Once content has been published, and especially website content, it's very easy to let it sit on your site assuming it's driving traffic and supporting conversions. But a crucial part of content continuous improvement is regularly reviewing your content for relevance, engagement and purpose. All content will sit in these 4 key areas, and you should adapt it accordingly:
Maintain – if the content is delivering on its purpose and driving results then maintain its position.
Optimise – if the content is not performing as you would expect then you need to optimise it. Is it using the right keywords? Does it serve a purpose? Are you answering your customer's questions?
Rewrite – if the content is older or the topic has changed it needs to be updated to include more relevant and engaging content to better serve your audience.
Retire – if the content no longer serves a purpose, isn't relevant to your audience anymore, and isn't providing any SEO benefit then it needs retiring.
Advertising
The beauty of digital advertising is the immediacy to make changes to ads, and the transparency of the performance of those ads against your goals. To get the most from your digital advertising, whether it's Google PPC, LinkedIn sponsored content, or Instagram shopping ads, you need to be reviewing their performance regularly and making incremental changes in line with the data. This also gives you the flexibility to enhance earned and owned media with paid to maximise on market opportunities.
Continuous improvement examples
We have provided some examples below of just a few of the businesses we support with continuous improvement programmes, and the impact these have had on their businesses to show you the kind of results that are possible.
These results were achieved through a programme of conversion rate optimisation and user experience focused improvements on their website, content and technical SEO improvements, and Google and social advertising monitoring and performance improvements. All analysed on a monthly basis to highlight the next improvements and changes to be made while measuring impact.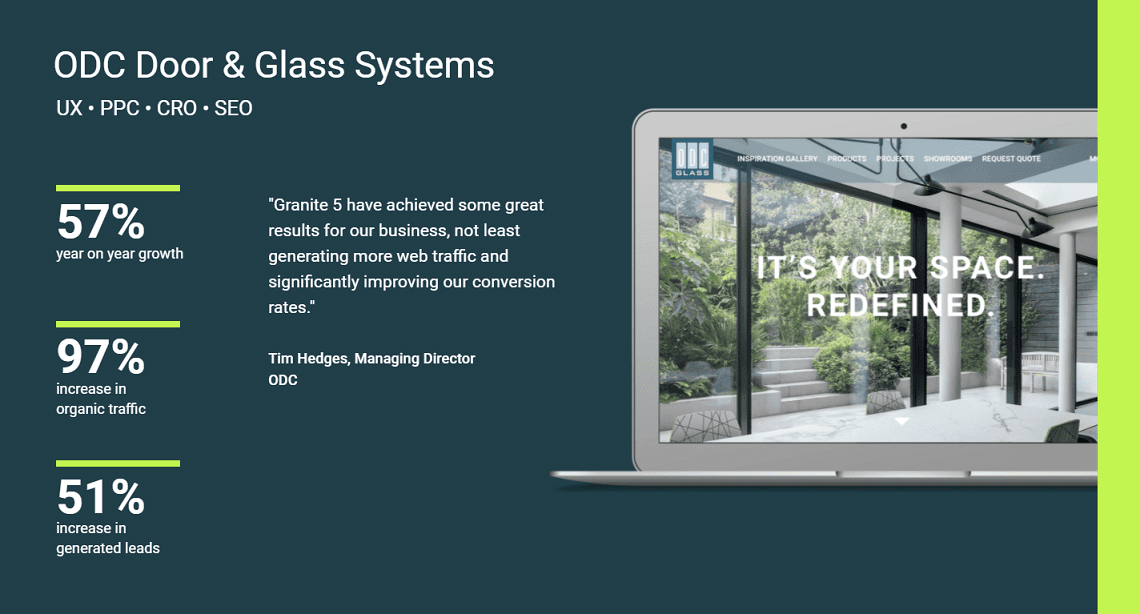 The improvements for this client were focused on their Google advertising and how to incrementally improve it to increase the click-through rate while reducing their cost per click, therefore, getting better results for their budget. This was achieved through regular specialised analysis of the campaigns, keywords, assets, and ads used to make changes to enhance performance.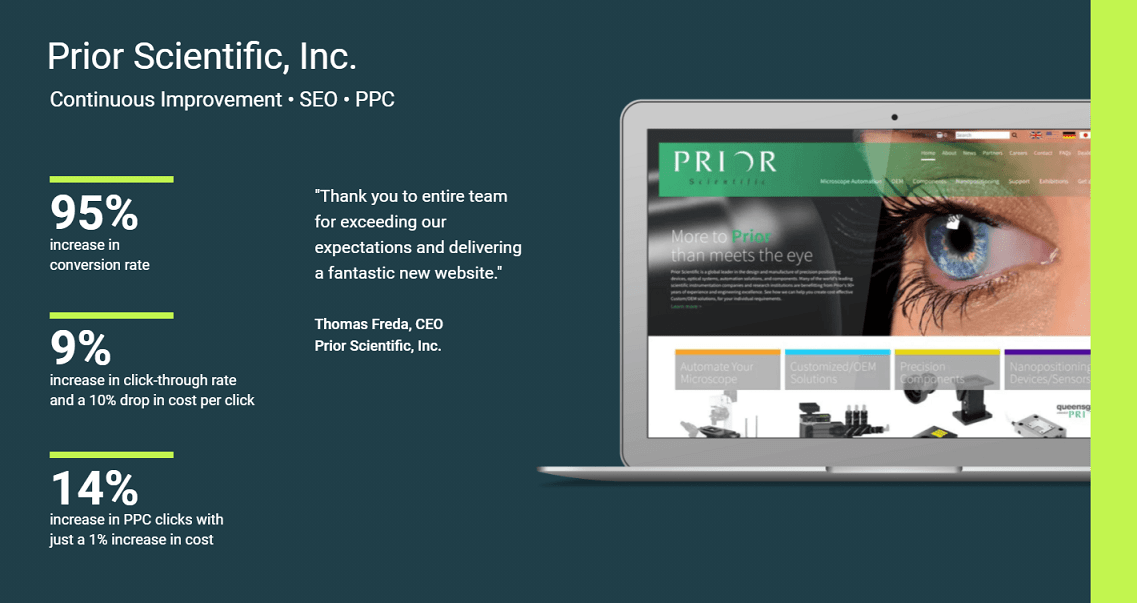 Our focus for this client was to create a bold new site to attract leads while delivering an engaging and user-focused experience that included an ultra-fast and responsive site. Through incremental data-driven development post-launch, we were able to make the site incredibly fast, loading in around half a second to give the best user experience.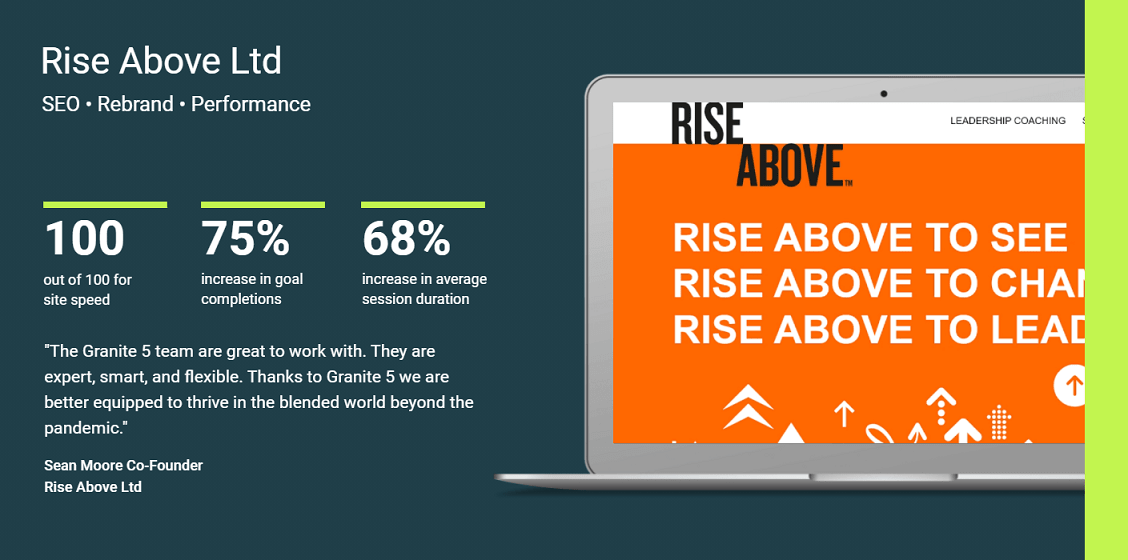 At Granite 5 we truly believe in utilising continuous improvement as a key tool in your digital marketing. If you need any support reviewing your digital marketing to see how it could be more effective, or you need support implementing your continuous improvements, then get in touch and we would be happy to discuss how we could support you.